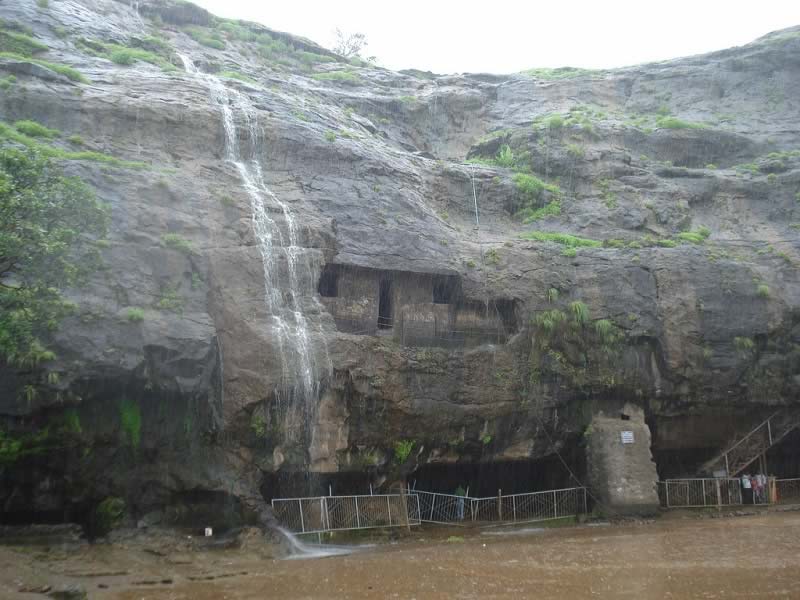 Karla Caves
These are the ancient Buddhist caves. They are in existence since 160 BC and are suppose to be the biggest among the "Chaitya Caves". There is provision of S.T. buses from Lonavala for reaching here.
This temple of Chandraseniya Kayastha Prabhu (C.K.P.) and Fisher communities is thronged by devotees during Navratri and Chaitra. The exquisite carvings created by human hands leaves one spellbound. At the entrance, there is a small temple of Ekvira Devi.
At the entrance, there are lion pillars and inside huge elephant forms are carved on which there are different forms representing Gautam Buddha. Other carvings include dancing pairs with windows everywhere.
The entrance gate is in the shape of a "Peepal" leaf through which one enters the huge Chaitya griha or hall. This large hall is full of stone pillars, which are carved with elephant and human forms. The roof is high and semicircular.
The pillars are surprisingly very smooth. There are many resting rooms around here. These rooms carved in the rocks are calm and ideal for meditation. Water is available for drinking from the tanks around.
Bhaje Caves
On the way to Pune from Lonavala the first station is Malavali. South of this station at a distance of about 25 minutes by foot is small town called Bhaje.
On one side there is Lohagad fort on other side Visapur fort and approximately in the center are Bhaja Caves. They are similar to Karla Caves but are on a much smaller scale. This caves are also in Chaitya style.
The speciality of these caves is that the rays of the setting sun visit these caves. On the southern side, there is a place where one can see carved figures of Gods and Goddesses.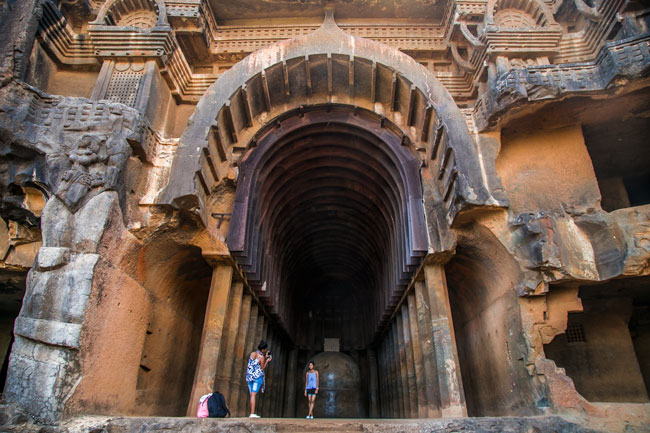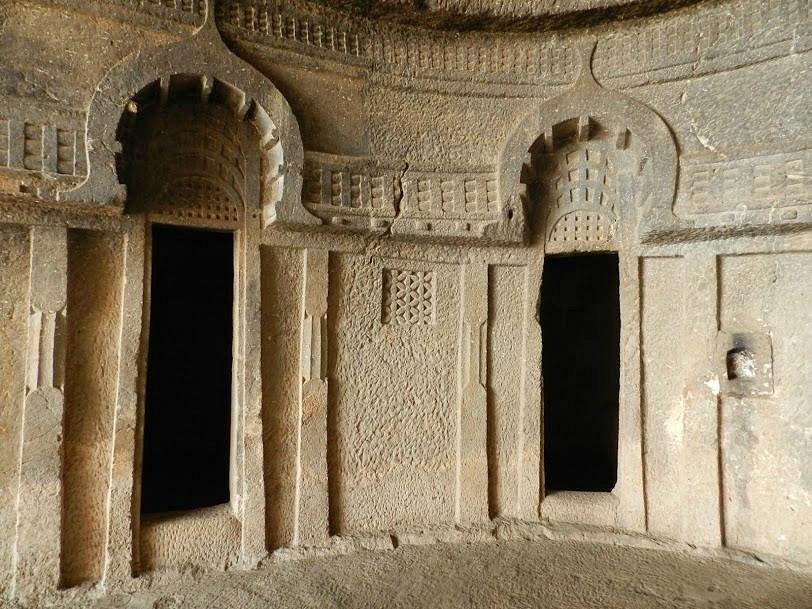 Bedsa Caves
These caves are located on Mumbai Pune road near Kamshet, between Kadde and Bedsa. They can be reached by bus or a truck hired from Kamshet. These caves are as big as Karla Caves but as they are located on a side off the main road there is not much tourist traffic here.
Huge Lion pillars and a large Chaitya hall with resting rooms is a specialty of these caves. There are smooth pillars in the shape of lion or human form. The sunrays fall straight on the place of prayer here.
This caves at Karla Bhaja and Bedsa which are called "Leny" in Marathi perhaps gives the place the name "Lonali" which subsequently changed to Lonavala.
These places which are symbols of our hard work and perseverance of our ancestors are real treasures of Lonavala.